Discussions on '21st Century Literature'
WHEN we hear the term "literature" we most often think of books or other written works. While that definition is correct in a strict sense, literature in the 21st century moves beyond those boundaries to incorporate works across various media. This change was evident in the recent annual presentation of research by students of the University of Guyana's Department of Language and Cultural Studies' Special Author or Period course.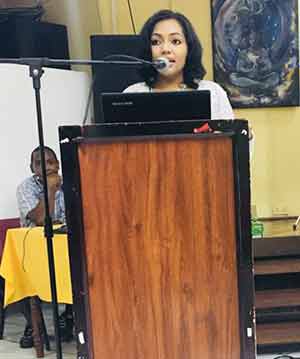 The presentations, under the theme "21st Century Literature" were held this past Monday in the Education Lecture Theatre (ELT) and saw six students putting forward their research findings based on topics ranging from dancehall music and Caribbean film to 'Game of Thrones' and oral literature. The floor was opened for questions and comments after each presentation. In his welcome and opening remarks, the course's lecturer, Mr. Al Creighton, noted that the course is research based. The students, he related, are allowed to select their own subjects for research. "The course has broadened, it has moved and it is the students who have moved it," he said.
First up was Latoya Rodrigues who presented a thematic analysis of contemporary dancehall music. Acknowledging that dancehall music has a reputation for being vulgar, lewd and violent, Rodrigues related that her research was conducted under the hypothesis that dancehall music can alleviate some of the social ills in our society if more airtime is given to songs of social commentary. While she did come across dancehall songs with positive messages, she related that those songs do not receive the same response and airplay that more mainstream dancehall tracks garner. "The artistes are all aware of their social responsibility but feel compelled to sing the kind of music that is supported by the masses" was among Rodrigues' findings.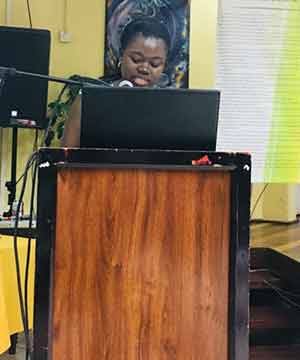 Diana Cruickshank, who also acted as the event's chair, focused on women in Caribbean films. She noted that, while we as West Indians have no trouble naming Western films, we would find it difficult to name West Indian films. To capture how women are represented in Caribbean cinema, Cruickshank examined the major and minor female characters of five Caribbean films – Dancehall Queen (Jamaica, 1997), Wan Pipel (Suriname, 1976), Blinded (Grenada, 2006), To The Night (Guyana, 2013) and Battledream Chronicle (2016, Martinique), the Caribbean's first full-length animated feature.
Cruickshank found in her analysis that Caribbean films reflect traditional gender roles for men and women. She pointed out; however, that women in Caribbean films exert resilience and perseverance in the face of adversity and oppression. "We need to change the visual culture of how we present our women of this region, to the rest of the world," she said in her conclusion. The issue of copyright laws and the importance of protecting intellectual property were among the issues brought up in the questions following Cruickshank's presentation.
Nadata Caesar Pryce's presentation was titled "Praise and Conflict: Gospel and Secular Artistes in Collaboration". Her research focused on the potential conflicts and contradictions that occur when gospel musicians produce songs with secular artists who arguably do not portray a Christian lifestyle. Caesar Pryce guided the audience through the history of gospel music, from its beginnings to contemporary times. In concluding, she questioned the notion that the messenger does not matter as long as the message of the Gospel is sent out and argued that the messenger does, in fact, matter.
"The Presentation of Women in the 'Game of Thrones' was the focus of Cristean Peters' research. Through an analysis of how various female characters in the series are portrayed, Peters established that many female characters in the series are oppressed and subjected to physical and sexual violence. She acknowledged that there are female characters, such as Arya Stark and Brienne of Tarth, who challenge and defy traditional female gender roles. She concluded that, while producers have responded to complaints from female fans about the presentation of women, more needs to be done as TV series such as Game of Thrones have a significant influence on society.
Quanza Patrick's research focused on the presentation of masculinity in dancehall music. She related that her objective was to show, through keen focus on dancehall music, how masculinity is portrayed by various dancehall artistes. Patrick noted that masculinity in dancehall music is portrayed based on a patriarchal structure. She used music clips from various male dancehall artists to illustrate her point. She proceeded to contrast these portrayals with clips from female dancehall artistes who defy patriarchal structures and assert their sexual independence. Artistes such as Spice and Ishawna, Patrick said, flip the patriarchal discourse.
Wrapping up the evening's presentations was Donella Edwards with an examination of oral literature as a tool for cultural sustainability. She related that her focus was on sustaining Guyanese culture through oral tradition. "I believe this topic is something that we constantly talk about without actually putting our heads and hands together," Edwards said of the idea of our cultural sustainability.
She noted that, based on her interviews with storytellers, oral traditions are dying out and being forgotten. Among the oral traditions that Edwards noted were stories of Anansi and Balgobin, the myths of Ole Higue and Baccoo and queh-queh. She cautioned that oral tradition, a vital part of Guyanese culture, will die out without efforts to preserve and pass it on to the next generation.
Article adapted from: https://guyanachronicle.com/2018/06/03/discussions-on-21st-century-literature
Contact Us
Faculty of Education & Humanities
University of Guyana, Turkeyen Campus
Greater Georgetown
Guyana
+592 222 4923
feh@uog.edu.gy